Much-loved notebook brand Moleskine may have launched in 1997, but the inspiration for its range of paper journals, sketchbooks and planners goes back to the classic notebooks used by creative luminaries like Ernest Hemingway and Vincent van Gogh.
Moleskine notebooks are designed to be timelessly elegant and practical — which is one reason they've proved so popular. But while inspired by the past, Moleskine is also looking to the future, seeking to bridge the gap between paper and digital notes. And when they needed a tech partner with deep expertise in handwriting recognition and digital ink management, they came to MyScript.
An evolutionary leap
We partnered with Moleskine on the development of their new range of Smart notebooks and planners — amazing hybrid devices that offer the immediacy and tactile advantages of paper alongside digital connectivity and power.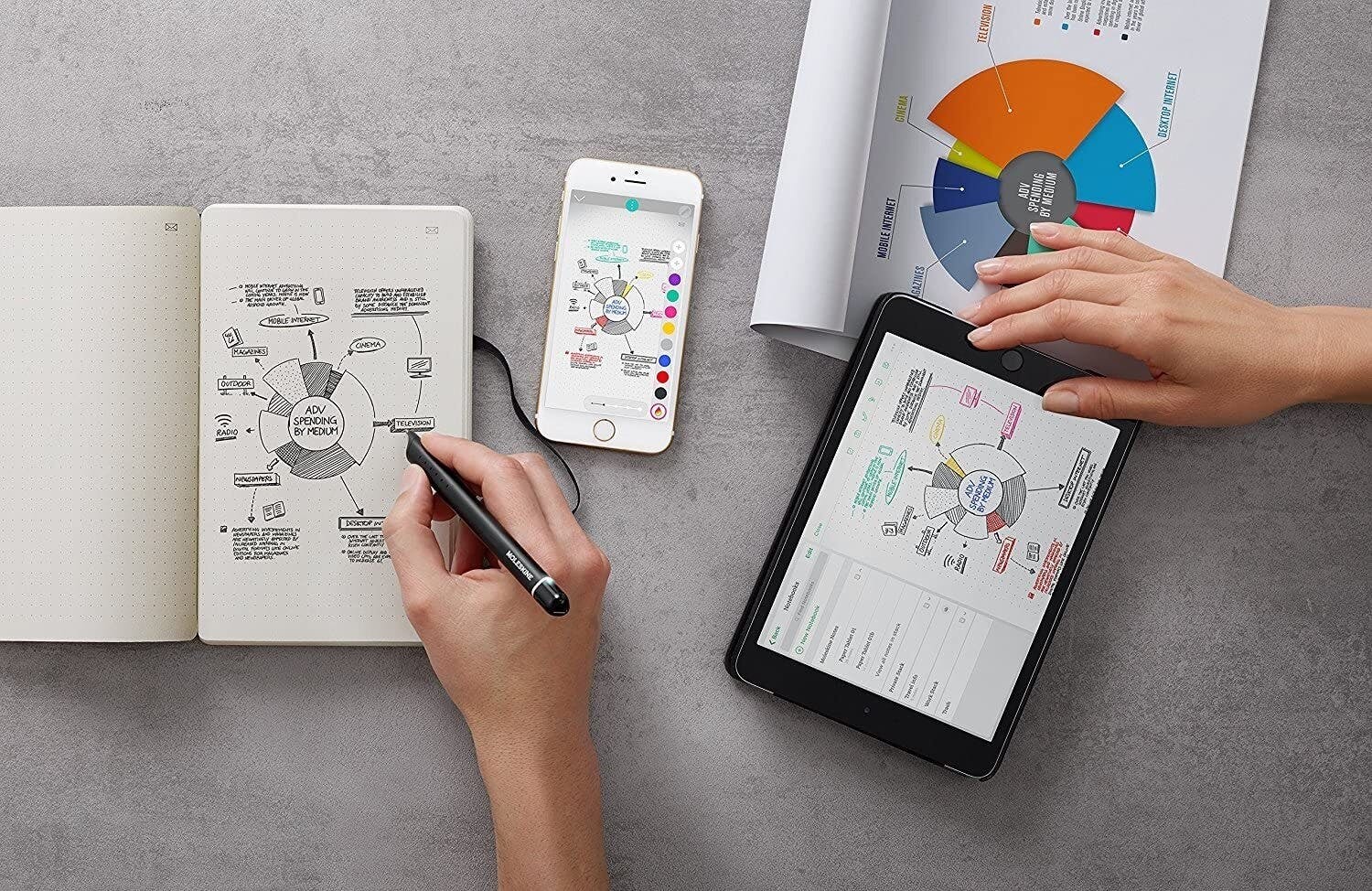 Using a Moleskine Smart Pen, users can write or draw on the Moleskine Smart system's 'magic' paper and — thanks to MyScript's AI-powered handwriting recognition engine — see every stroke rendered on the screen of a connected device in real-time. All content created in their notebook becomes instantly available in Moleskine's dedicated Notes app, and can be reused in other apps or synced to other devices via the cloud. It's a clever, effortless way to build a digital archive of handwritten work, or to create by hand without compromising efficiency. And it's made possible by the speed and accuracy of MyScript's handwriting recognition SDK.
Moleskine Smart users can now enjoy some of the productivity-boosting solutions of MyScript's handwriting recognition SDK, including
accurate handwriting recognition, instant write-to-text conversion and fully searchable text via the Notes app. Moleskine has also upgraded the devices themselves, adding faster charging, longer battery life and improved pen pressure sensitivity.
We're proud to partner with Moleskine on the evolution of a pioneering note-taking system — and look forward to helping them build a future as exciting as their heritage.
Want to learn about MyScript's AI-powered handwriting recognition? Find out more.
Want more info on Moleskine Smart, powered by MyScript? Learn more.